History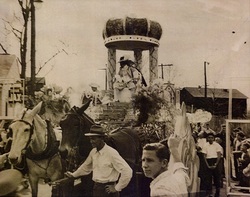 The Krewe of ALLA was formed November 19, 1932, and was originally sponsored by the West Side Carnival and Social Club, Inc. The group was reorganized July 26, 1977 as the Golden Gryphon Society, Inc. Since its formation, the krewe has staged a total of 76 annual street parades, one 75th anniversary parade, one Gretna Kick-Off parade, and 11 river parades. Due to World War II, ALLA did not stage its annual street pageant for the years 1942 to 1945. In 1968, the parade was postponed twice because of inclement weather, and was cancelled for an entire season. In 2014, the krewe moved its parade from the West Bank to the Uptown New Orleans route on St. Charles Avenue and began accepting women as members.

The photo at left is of the king's float in the 1949 Alla parade. The banner photo above is of the king's float in ALLA's first parade in 1933.

---
Alla's History Published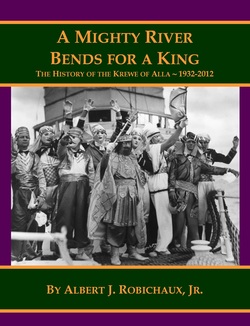 The Krewe of ALLA is proud to announce that it has published its history in a book called A Mighty River Bends for a King: The History of the Krewe of ALLA—1932-2012. Alla's president, Albert J. "Al" Robichaux, Jr., spent 8 years assembling all of the source material needed to fully document ALLA's 80-year history in such detail. For instance, not only does the book list all kings and queens, and their maids, but it also provides details about every ALLA parade, including every float title and parade theme back to 1930s, and all marching bands back to the 1970s!

"ALLA is very special to me. It has been a part of my life for almost 35 years," said Robichaux. "The book took a lot of time and effort, but the work has been very rewarding. I hope everyone appreciates how special Alla is, not only for the West Bank, but for all of the New Orleans region."

The book, which costs $45, provides a full listing of all doubloons and medallions commissioned by the club, as well as quantities minted. There are photos of every king and maharajah, details about the weather for every parade, every parade route, and descriptions of the krewe's river parades, which lasted from the 1930s to the 1950s.

This book will be appreciated not only by Mardi Gras aficionados, but also local historians and genealogists. It provides names of dozens of West Bank families and a narrative of the formation of West Bank Mardi Gras traditions prior to ALLA's birth in November 1932.

Fifty-four pages of the 300-page hard-bound book are dedicated to photographs, many of which appear in full color. Hundreds of newspaper articles were used as source materials, as were interviews with club members, ball programs, ALLA Carnival Bulletins, club minutes, and invitations to ALLA functions.

Robichaux has been a member of ALLA since 1978, and his first parade with the club was in 1979. He serves as Director of the Jefferson Council on Aging, and is retired from the Jefferson Parish School System, where he ascended the ranks from social studies teacher to central staff administrator. He is a lifelong resident of the West Bank who resides in Terrytown.

We are currently SOLD OUT of copies; more may be available in print shortly.


---